<![if !vml]>

<![endif]>
Kevin D. Brownís Page
Welcome!† First off, since there lots of people named Kevin Brown, hereís a quick summary of me to make sure youíve found the right guy:

<![if !supportLists]>∑ <![endif]>Silicon Valley tech entrepreneur:†

<![if !supportLists]>o <![endif]>CEO of Kidaro (acquired by Microsoft, Mayí08)

<![if !supportLists]>o <![endif]>VP at Decru (acquired by NetApp, Augí05)

<![if !supportLists]>o <![endif]>VP/GM and part of founding team at Inktomi (NASDAQ: INKT then acquired by Yahoo)

<![if !supportLists]>o <![endif]>For more details, hereís my profile on LinkedIn

<![if !supportLists]>∑ <![endif]>UC Berkeley Haas School of Business, MBAí96

<![if !supportLists]>o <![endif]>Fellow and Advisory Board member, Lester Center for Entrepreneurship

<![if !supportLists]>∑ <![endif]>Married to Jenny Redo, and a proud dad of two daughters

<![if !supportLists]>∑ <![endif]>Drummer

<![if !supportLists]>∑ <![endif]>Passion for cooking and entertaining with friends

<![if !vml]><![endif]>
If youíve made it this far, Iím probably the KB youíre looking for.† Hereís a little more on my interestsÖ
Family
Iíve got a super family, and Iím really enjoying a break in the action to spend time with them.† Our family site is at www.jennykevin.com.
Music
Iíve been drumming for over 30 years now, with a heavy emphasis on progressive and hard rock.† Top musical influences include Rush, Tool, Porcupine Tree, Led Zeppelin, Cream, Pink Floyd, Santana, and Peter Gabriel.††
Iíve had the privilege of playing for most of those years with two of my greatest friends, Paul Lesinski (lead guitarist for The Strangers, Colorfield, The Floydian Slips), and Tom Gutierrez (supergenius bass player, composer, and physics professor at Cal Poly SLO).† Our high school and college-era rock bands included Osiris and Darkís Ensemble.† Here are a couple of videos from the 20-year reunion show of Osiris, recorded at the Little Fox Theater in Redwood City, CA.
| | |
| --- | --- |
| White Room (by Cream) | Smoke on the Water (by Deep Purple) |
Iíve also played off and on for years with some other great bands, including The Unemployables (Mike and Phil, you guys rock), and Port80 (Inktomi band, with notable gigs at COMDEX Ď99 and at San Franciscoís legendary Great American Music Hall).†
Cooking With Friends
I love being a dad, but having two small kids really crushed our social life for a while.† We discovered the best way to enjoy great meals and see friends was to do it ourselves.† Iíve got some talented foodie friends -- including Mark Cashman, Robert Habibi, Eric Brewer, and OJ Nguyen -- and a sense of friendly competition drove us to sharpen our skills for these multi-course dining events.† Hereís an article from 2003 (ďKevinís KitchenĒ) in our local paper talking about our culinary adventures.
<![if !vml]>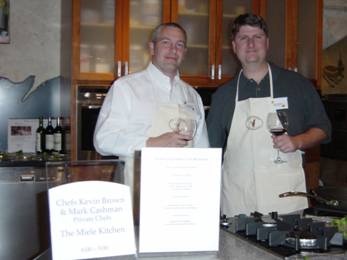 <![endif]>
Mark Cashman and I toast after serving 200 guests at the Atherton Celebrity Chef event
The San Francisco bay area has some phenomenal restaurants Ė some of our favorite inspirations include The French Laundry (Napa), Restaurant Gary Danko (San Francisco), and Michael Mina (San Francisco).† We also had a great culinary tour in New Orleans, including Commanderís Palace and K-Paulís (see picture below).† If you have any suggestions on great food, Iíd love to hear from you.
<![if !vml]>
<![endif]>
New Orleans 40th Birthday Bash with great friends:† Jennifer Cashman, Jamie Wright, Carl Wright, Jenny Redo, Kevin Brown, Mark Cashman, Mozhi Habibi, Robert Habibi
Professional
ďIn business, more money is better, but the greatest luxury is the ability to choose whom you work with, what you work on, and the impact it can have on the world.Ē
Iíve been extremely fortunate to work on some great projects, with great people, which have made a positive difference in the world.† I really enjoy the early stages of creating a company and a market: maximum innovation, minimum politics, high stakes, nonstop adrenaline, and violent execution.† Grrrr!
No surprise, of all of the variables above, the most important is people.† For my last two startups (Decru and Kidaro), Iíve had the great privilege of working with two close friends, Dan Avida and Carl Wright.†
Dan is a legend.† He invented the Fiery print controller at EFI, rose to become the companyís CEO, and grew them to $570 million in revenue and 80% market share, all in his mid-30ís.† He quit EFI to start an incredible storage security company called Decru, and I jumped at the chance to work with him as a VP running Marketing/BD/Product Management.† We sold Decru to NetApp in 2005; while I stayed on as a VP at NetApp for 18 months, Dan became a general partner at Opus Capital, and his first investment was in an Israel-based desktop virtualization company called Kidaro.† It was a brilliant idea, and we engineered a way for me to join as CEO of the company.† Dan was the best board member Iíve ever worked with, and was instrumental in our successful outcome (Kidaro was acquired by Microsoft in Mayí08).†
Carl Wright is another legendary operator.† He formerly served as Chief Information Security Officer of the US Marine Corps, and we met him while he was driving about 90% of the revenue at Securify.† Dan and I instantly loved this guy, and soon we were able to recruit him to run our Federal business at Decru.† Working with Carl, we were able to make Decru the dominant storage security platform for the DoD/IC, which helped us achieve a similar position in the Fortune 1000.† Carl was already consulting at Kidaro when I arrived, and he joined full-time as the #2 executive at the company.† There is no substitute for hard work and winning with true friends at your side.
| | |
| --- | --- |
| <![if !vml]><![endif]>Kevin and Dan at the market in Tel Aviv | <![if !vml]><![endif]>Kevin, Carl Wright, and the Pufferfish, following Microsoft acquisition of Kidaro |
Of course there are many other close friends and war stories from the last two decades, but Iíll share a quick thought on a concept we developed: the Pufferfish strategy.† When youíre in the business of running startups, the world is against you Ė youíre small, customers are scared to work with you, big vendors try to FUD you to death, and competitors are constantly copying your strategies.† In nature, the humble Pufferfish evolved a strategy to survive in harsh environments Ė when threatened, it swallows water to appear larger, and sharp spines stick out on all sides.† In startups, we emulate the Pufferfish with a combination of aggressive direct sales, strategic market positioning and business development tactics to quickly build an outsized market presence.† Careful product management analysis and prioritization can enable product differentiation that is very difficult for new entrants to overcome.
Recommended Reading
When you spend as much time on planes as I have, reading can take on a new level of importance in your life.† I like a number of genres, but science and science fiction appeal deeply to my inner geek.† Here are a few Iíd highly recommend Ė let me know what you think:
Neal Stephenson:† Snow Crash, The Diamond Age, Cryptonomicon, The Baroque Cycle, Anathem
China Mieville:† Perdido Street Station, The Scar, Iron Council
Bill Bryson:† A Short History of Nearly Everything
Magazines:†† Scientific American, Computerworld
If youíve made it this far, thanks for spending your time with my humble Web page.† Even better, Iíll look forward to seeing you in person soonÖ
P.S.† If youíre wondering what the graphic at the top of the page is, itís a close-up shot of a massive canyon on Mars, courtesy of NASA.